MUSIC MOBILITY FUNDING GUIDE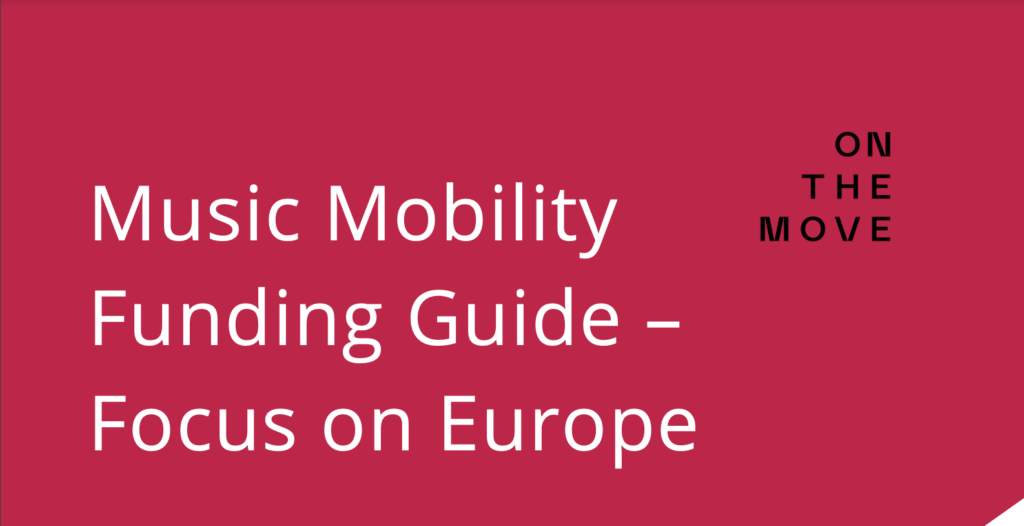 This Music Mobility Funding Guide – with a focus on Europe – provides an overview of the funding bodies and programmes that support the international mobility of music artists (authors, composers, musicians, bands, orchestras) and other music professionals travelling from and/or to European countries.
On the Move, in partnership with Music Export Poland, commissioned music industry and mobility experts Jess Partridge and Marie Fol to map grants and support schemes in which music is either the main focus, or is specifically listed as an eligible discipline. We attempt to cover all types of musical expression, from ancient to more contemporary genres – from classical, jazz and pop to traditional and early forms of music.
The aim of this Music Mobility Funding Guide is to transparently consolidate existing information that can help individuals and organisations to find the best ways to engage with international colleagues and finance their cross-border travel. This guide lists local, national, and international resources, both public and private. We have only included opportunities that are regularly occurring, accessible online, invite applications through open calls, and that cover at least a portion of international travel costs.
And, as with all of On the Move's funding guides, we hope to provide cultural policy makers and private funders with a broad overview of existing schemes so that they can modify and update their initiatives within this landscape in order to sustain and expand equitable access to professional cultural mobility for all.
In a continuation of the partnership with Music Export Poland, they hope to create updated versions of the Music Mobility Funding Guide, therefore we welcome further information and feedback.
The Music Mobility Funding Guidecovers 46 countries located on the European continent, which are members of the Council of Europe: Albania, Andorra, Armenia, Austria, Azerbaijan, Belgium, Bosnia and Herzegovina, Bulgaria, Croatia, Cyprus, Czech Republic, Denmark, Estonia, Finland, France, Georgia, Germany, Greece, Hungary, Iceland, Ireland, Italy, Kosovo, Latvia, Liechtenstein, Lithuania, Luxembourg, Malta, Moldova, Monaco, Montenegro, Netherlands, North Macedonia, Norway, Poland, Portugal, Romania, San Marino, Serbia, Slovakia, Slovenia, Spain, Sweden, Switzerland, Ukraine, and the United Kingdom.
There are no funding schemes listed for 8 countries (Andorra, Azerbaijan, Cyprus, Georgia, Latvia, Moldova, North Macedonia, San Marino) as no resource was found at the time of research. There are however two additional sections with Europe-wide (inc. regions such as Nordic & Baltic, Mediterranean, Central and Eastern European, and Balkan) and International funding schemes which cover countries for which there are no specific funding schemes.
Notes from the researches of the Music Mobility Funding Guide
We highly recommend you check your Export Office and your Music Information Centres when considering leaving 

your country ("Outgoing Mobility", usually what an Export Office would guide you through) to go to another place. 

Existing Offices & Centres are listed in the "relevant links" at the start of each country listing.

Make sure to check "IM – Incoming Mobility" for countries you wish to go to. Funds do not exist solely to go 

abroad, some are specifically designed to invite people over. For those, you may need a local partner who will 

invite you and/or write the application for you. Details are listed in the guide!

Some ministries and large public agencies have calls to support international mobility which are hard to find, 

mostly because their publication date is not listed. We strongly recommend you check those agencies (such as 

the British Council, for instance) for current calls, as well as have a look under "public tenders". 

We recommend you check in your country of origin/residence the support that may exist for international trade, 

economy and export (mostly under "Entrepreneurship" or similar departments and agencies depending on the 

Ministry of Economy and Trade). Indeed, in many European countries, the music sector is composed of micro, 

small and medium businesses (even as one-person companies or sole traders) and those are usually eligible for 

financial support from such public agencies.
We recommend you start browsing this Music Mobility Funding Guide through the table of content, which gives an overview of the public, private, national and regional funding organisations in each country. For each organisation, you can click on the name of a specific funding scheme to access its detailed presentation in the guide. Once you find a funding scheme that matches your plans, make sure to visit the listed website to double check the latest eligibility criteria and note the application deadline.
Enjoy the reading of the Music Mobility Funding Guide!
Recommend

0

recommendations
Published in Grants